How To: Barcode WPF DataBinding to SQL Server Source ADO.NET
---
Product
Barcode Professional for WPF
Published
12/11/2007
Updated
12/11/2007
Overview
This demo - which source code files can be found at the end of this page available for downloading - demonstrates how you can bind Barcode Professional to ADO.NET DataSet in WPF Applications. Barcode Professional for WPF supports both DataBinding model i.e. XAML declarative DataBinding syntax as well as binding in code. In this demo we'll use both WPF DataBinding methods.
Requirements
Neodynamic Barcode Professional for WPF (any version)
Microsoft .NET Framework 3.0 or greater
Microsoft SQL Server 2005 Express Edition or greater
Microsoft Visual Studio 2008
Microsoft Visual Basic 2008 Express Edition
Microsoft Visual C# 2008 Express Edition

The data source for our data binding sample will be a simple SQL Server Database file (MDF) called NWLite.MDF which basically contains a reduced version of Northwind Employees info.
The following figure is a screenshot of the demo application that leverages WPF DataBinding and Barcode Professional for WPF.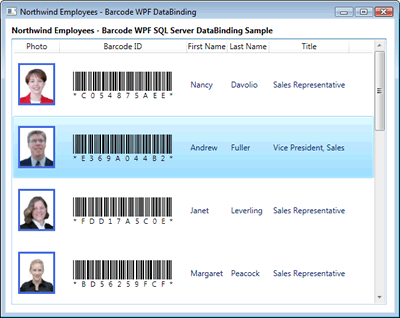 Barcode WPF DataBinding to SQL Server ADO.NET Source
This demo features:
A WPF Window which displays info about Northwind Employees stored in a SQL Server Database file. The info is displayed by a WPF ListView control.
Barcode WPF DataBinding converting the Employee ID to a Barcode representation by leveraging Barcode Professional for WPF
Displays employees' photos stored in SQL BLOB fields by using WPF Converters
Sample Files Download
Here are the VB.NET and C# versions of this sample. Please download the zip file and extract it.
Remember to download and install Barcode Professional for WPF in order to reproduce this sample demo.