Images, Pictures & Photos
The ImageElement wraps an image, picture or photo. Those images can be acquired from several sources such as a URL or path file, Base64 string, byte array, SQL BLOB, Stream or System.Drawing.Image object. The supported Source Image formats are GIF, JPG/JPEG, BMP, TIFF, ICO, WMF, EMF & PNG.
Rich Text & WordArt Style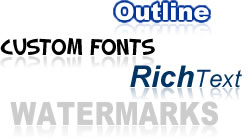 TextElement renders Unicode text with basic formatting. TextElement are useful for drawing custom captions, outlined text & watermarks.
RichTextElement renders rich text by mixing words in different fonts, sizes, capitalizations, foreground colors, etc.
WordArtElement renders stylized texts with special effects featuring gradient color fills and shaping.
Auto-Shapes!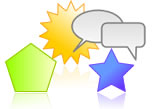 The ShapeElement-derived classes render preset shapes like rectangles, ovals, lines, arrows, stars, polygon, callouts (a.k.a. speech bubbles) and paths. AutoShapes support imaging effects, text inside them with padding feature, border roundness, dashed patterns, and more!