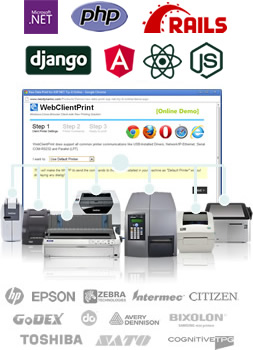 Lightweight and plugin-free solution for Client-side Raw Data Printing scenarios for Windows, Linux, Raspberry Pi & Mac clients, exclusively designed for ASP.NET (Core, MVC & WebForms) & PHP website projects.
Send raw data, text and native commands to client printers without showing or displaying any print dialog box! Printing common file formats like PDF, TXT, DOC, XLS, JPG, PNG, & Multipage-TIFF are also supported!
WebClientPrint supports any kind of type and brand printers! Thermal Label Barcode printers, POS receipt printers, RFID printers, Dot-Matrix impact printers, Kiosk printers, ID Card printers, Laser, Inkjet and more!
Send any Printer Command Language! Most known like ESC/P, PCL, PostScript, ZPL, EPL, IPL, DPL, EZPL, ZGL, SBPL, RCL WPL, CLP, IBM Proprinter, CPL, Dymo ESC codes, SPL, TCPL, TSPL-EZ, DASCOM
You should take a look at it! Try WebClientPrint for ASP.NET (WebForms & MVC), WebClientPrint for ASP.NET Core & WebClientPrint for PHP online!